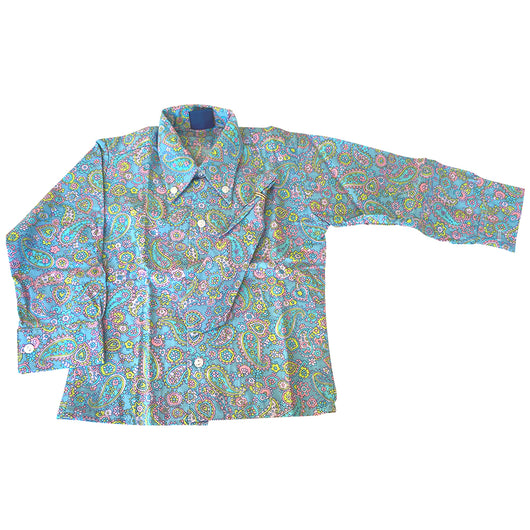 Psychedelic 1960s kids vintage blue paisley long sleeved shirt and neck tie
TTPB-3
Regular price £20.00 Sale
Totally amazing original vintage unworn 1960s kids long sleeved shirt in pale blue with lime green, lilac and pink paisley print and matching neck tie with goldtone metal tie ring.

Made by Trutex, it has long sleeves, pleated back and button details to the pointed collars, with buttoned cuffs.

Fastens on the boys side, but great for any kid who loves 60s cool! Two sizes available.
Age 2-3 measures 15" long, 11" across the shoulders, 12.5" sleeves, 25" chest
Age 5-6 measures 18" long, 12" across the shoulders, 16" sleeves, 29" chest (in original packaging)

Please note ONLY age 5-6 is in original packaging.
It's a good idea to check the measurements against something your child already owns if unsure of size. Unworn vintage deadstock.