One of our favourite labels of the sixties and seventies British Boutique Movement era is Dollyrockers by Sambo. Being big fans of floral and psychedelic prints, we can never resist a frock bearing this label, so have compiled a little history on Dollyrockers including images of some of our past and present stock from this collectable boutique fashion label.
Dollyrockers originated in 1963, and their in-house designer was Samuel Sherman (known as 'Sambo', as you will see on the Dollyrockers label here, taken from the jungle print shift dress above!). Samuel Sherman had been designing under the Sambo moniker since the late 1940s, and became recognised for his 1950s frocks made in Marchington cottons.
The lovely Pattie Boyd modelled the Dollyrockers range in early publicity campaigns, with co-ordinated footwear by Dolcis Shoes. The 1964 picture to the right shows Pattie in a sleeveless gingham checked Dollyrockers frock with lace collar and bib detail, priced at u00a314 4s. Gorgeous!
At the time, Pattie had just started to date Beatle George Harrison, so this must have been quite a coup for the label, gaining valuable increased attention for their campaign via their lucky cover girl's love life!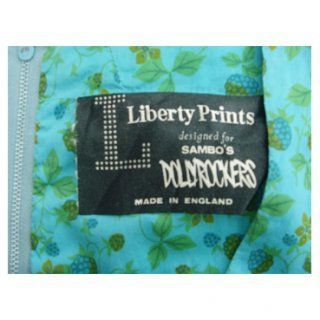 Dollyrockers also collaborated with Liberty of London for some of their designs, and above you can see a stunning example of a Dollyrockers long sleeved turquoise mini dress from our archive, made in original Liberty printed fabric. Next to it is a close-up of the label and more detail from the beautiful and classic Liberty floral print.
Into the 1970s, the label became best known for their peasant style frocks like the one to the right here, and for their floaty floral maxi dresses.
The label ceased in 1975, but has become a covetable name for those interested in the Youthquake fashions of the sixties. Their garments are a colourful memento of Swinging London in its c20th fashion heyday.
Samuel Sherman went on to produce clothing under his label 'Clothes by Samuel Sherman'.
You can view our current collection of Dollyrockers dresses here.