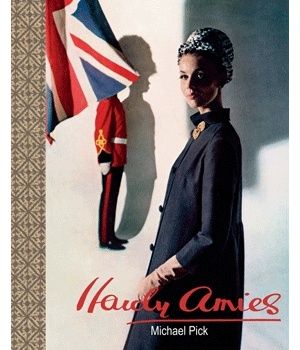 Hardy Amies is a name very familiar to vintage clothing enthusiasts. Best known for his appointment as Dressmaker to Her Majesty Queen Elizabeth II, his designs epitomised the very finest of British couture.
Untrained as a designer, Amies first came onto the scene in glamourous 1930s London, drawing attention from a star-studded clientele.

Founding his own couture house in the 1940s, his fame began to spread the globe and his work within the fashion industry earned him a knighthood in 1989. He remained at the helm of his business into his nineties, and Hardy Amies is still revered as one of the greatest British couture houses.
This beautiful and sumptuous hardback book published by the Antique Collectors' Club (ACC Publishing Group) features hundreds of original sketches, drawings and photographs from a career spanning eight decades, many never been seen before now. Images from the fashion press of the day are also included, as well as three separate forewords by Michael York, Selena Hastings and Anna Harvey.
Hardy Amies by Michael Pick is priced at £45 and is a hardback book with 304 pages. Quarter-bound in luxurious Hardy Amies fabric, it is an extra-special collectors piece for fans of vintage couture.

We are delighted offer a copy of this book as a competition prize, courtesy of ACC Publishing Group.
To win, just email your full name, address and telephone number, with 'Hardy Amies comp' in the title to: dawn@candysays.co.uk
Entries close at midnight on Friday 30th November 2012 and the winner will be picked from a hat at random and notified by email within 7 days.
For more ACC publications take a look at their website, where you'll find many more beautifully illustrated books on iconic labels such as Biba, Foale and Tuffin, John Bates and Liberty and Co.