Brighton, 1965: the iconic Biba brand open their new shop on Queen's Road, following the immense success of their flagship Kensington store.
Given that Brighton is where Biba's creator Barbara Hulanicki spent her teenage years and was also the place where her husband, business partner and lifelong companion Fitz proposed marriage in 1961, the town has a special connection with this most coveted of British Boutique Movement labels.
It is fitting then, that the Brighton Museum & Art Gallery is currently playing host to a fascinating exhibition, 'Biba and Beyond'.
Celebrating the Biba lifestyle and looking beyond Biba at Barbara Hulanicki's successful careers in design, fashion illustration and interior design, this exhibition is a beautifully presented, informative and swoon-inducing look at the work of a lady who transformed the High Street shopping experience of the 1960s and 1970s.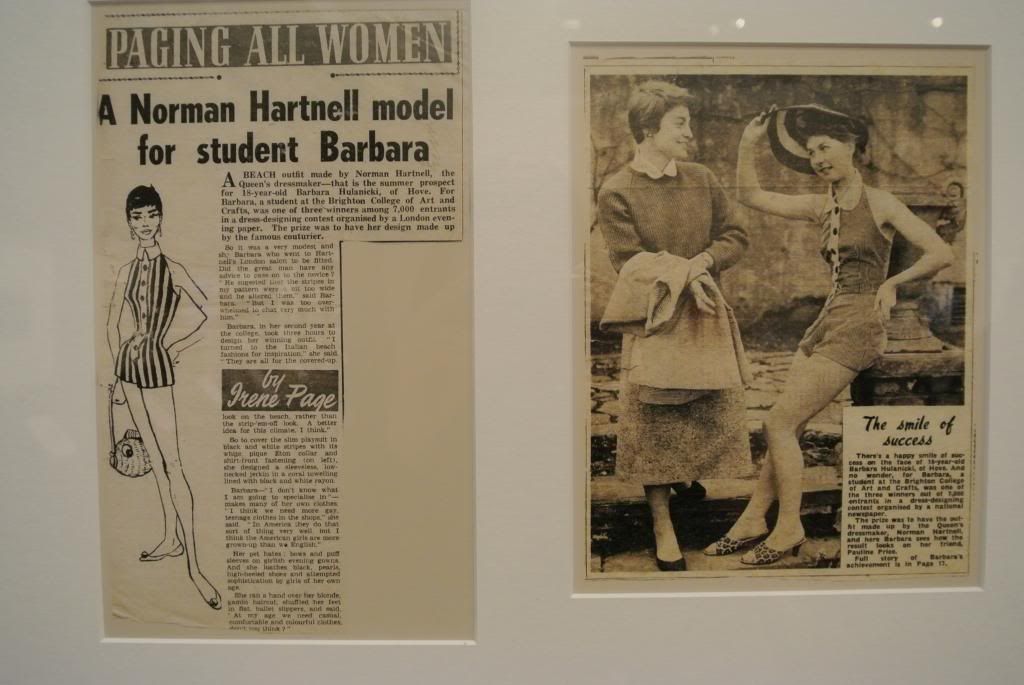 Barbara's winning beach outfit design, 1955
The exhibition begins by charting in photos and memorabilia Barbara's early life from her birth in Warsaw to loving parents Witold and Victoria Hulanicki, through the devastating murder of her father and her resulting move to the UK to live with her Aunt Sophie, whose extensive and glamourous wardrobe became an inspiration for Barbara's career in fashion.
Barbara studied fashion illustration at Brighton Art School from 1954 - 1956, and in 1955 her beach outfit design featured above won an Evening Standard fashion design competition and was made up by royal couturier Norman Hartnell, paving the way for her first job as a fashion illustrator.
Some of Barbara's fashion illustrations for Le-Roy Weldons sewing patterns
In the summer of 1963, Biba launched their postal boutique with an advert in the Daily Express for a two-guinea evening skirt which had only moderate sales of a few hundred garments. However, Biba's next mail order offering in 1964 - a pink gingham dress with matching headscarf - received 17,000 orders and really started the ball rolling!
The first Biba shop opened in the same year in Abingdon Road, Kensington. It was formerly an old chemist's shop, and although dilapidated Barbara fell in love with its charm, and soon it was filled with loud music, glamourous young shop assistants and teen fashion dollies all clamouring for the latest styles amongst the racks of slim-fitting frocks in signature Biba tones of mulberry, plum, green and brown.


Central stand full of Biba delights!
Within ten years, Biba had grown from a tiny boutique into a seven-storey department store (the fabled 'Big Biba'), housed in the grand former Derry and Toms building. It was complete with childrens' department, a lavish cosmetics section, a restaurant and roof top garden and even a food hall selling branded Biba baked beans!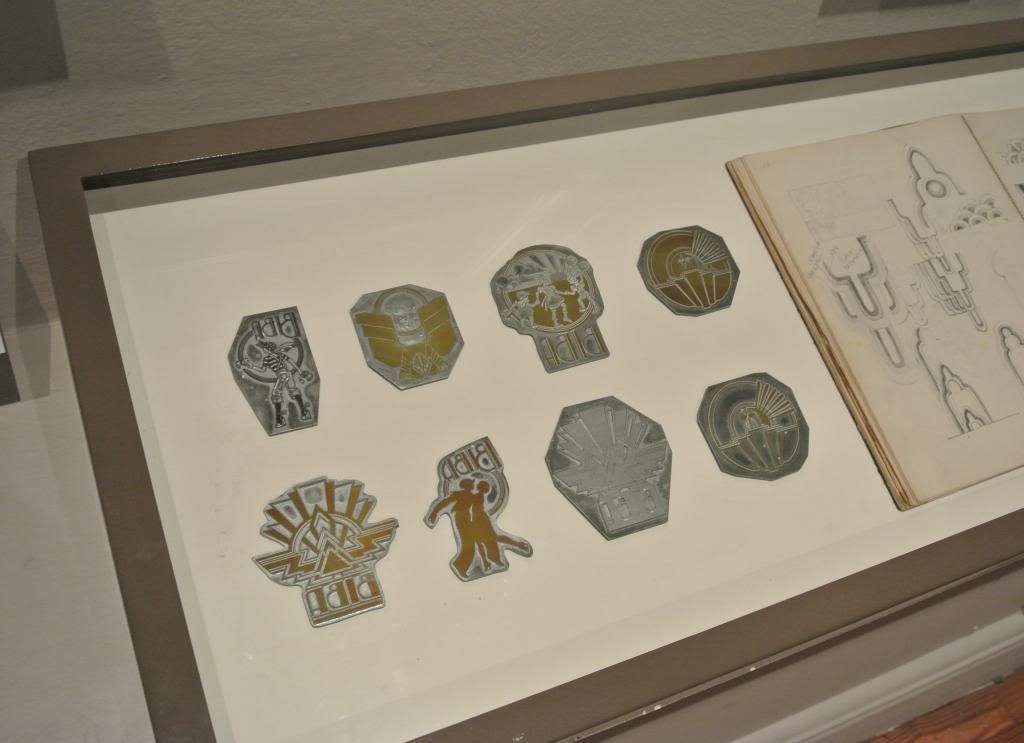 Intaglios for Big Biba department logos, 1972

A collection of memorabilia from the Big Biba store, including some gold wellies!

The Biba shops and brand symbolised nostalgia, romance and mystery - for Barbara the surroundings and design of the shops and the marketing were just as important as the merchandise, which is perhaps why Biba has remained so well-loved and fondly remembered to this day.
The classic Biba dolly was described by Barbara as "pretty and young. She had an upturned nose, rosy cheeks, and a skinny body with long asparagus legs and tiny feet." Judging by the size of most of the garments in this exhibition, the Biba dolly must have been very svelte indeed!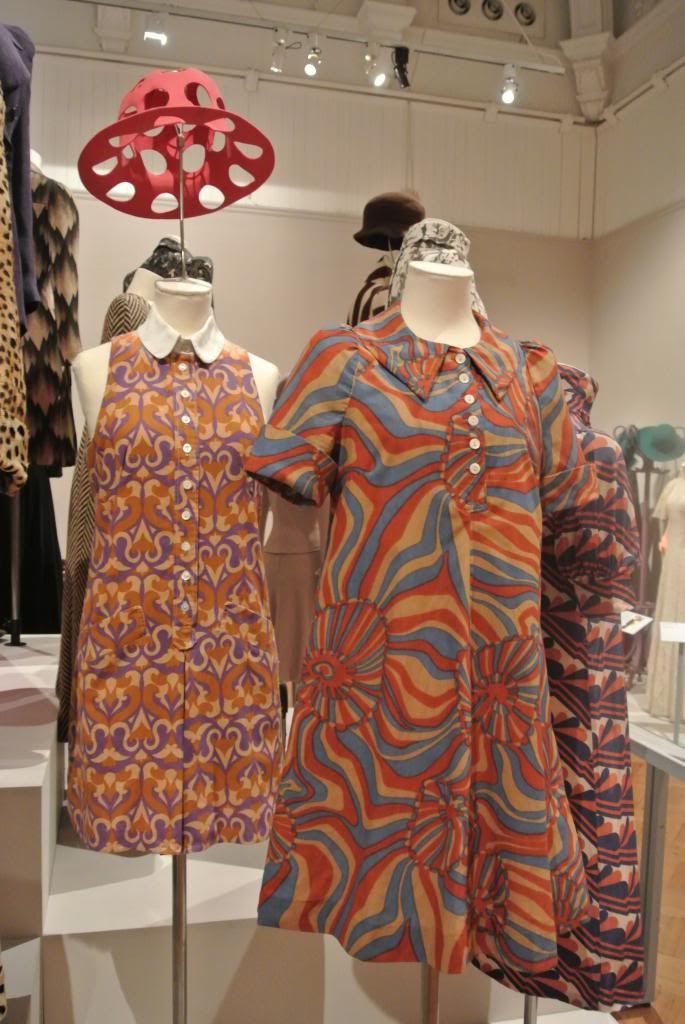 Models such as Maddy Smith, Stephanie Farrow, Twiggy and Ingrid Boulting were used to show the decadent designs off to full effect. Make-up in unconventional 'Auntie' tones finished off the Biba look - sepia lipsticks, green foundations and blue blushers created the ethereal look of long-gone silver screen stars.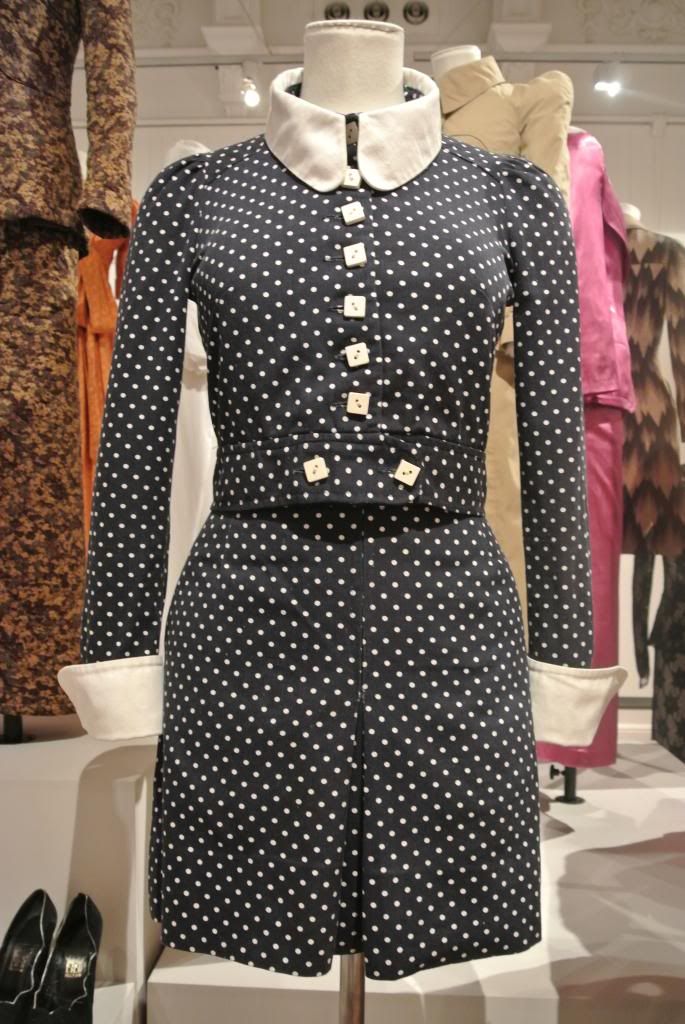 Polkadot Biba suit, as modelled by Maddy Smith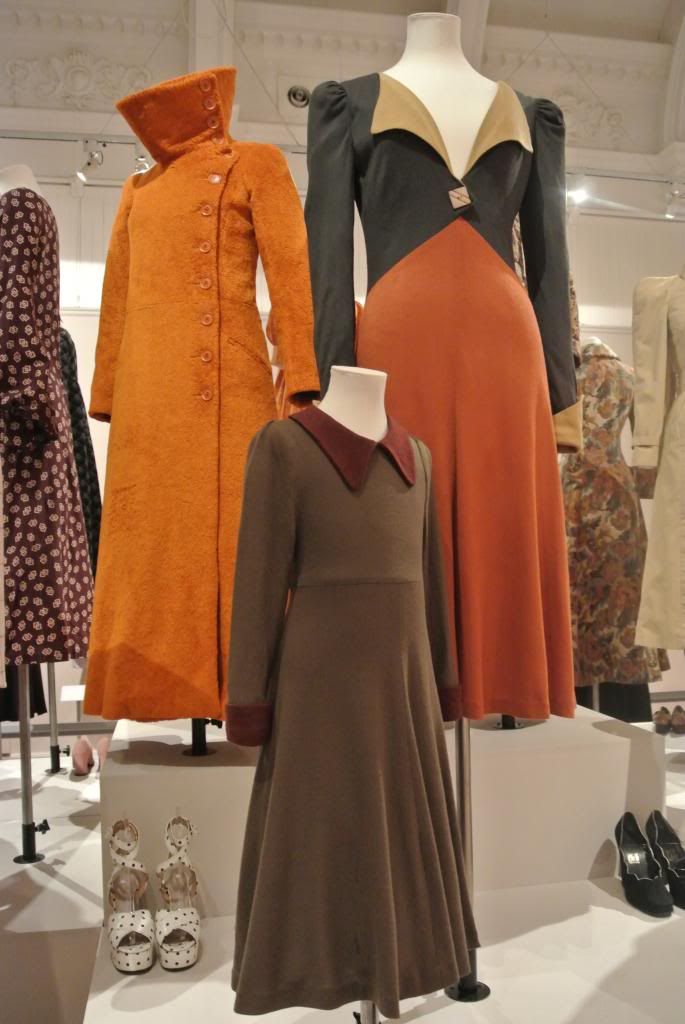 Child's dress, orange wool coat and forties inspired day dress (c1970 - 72)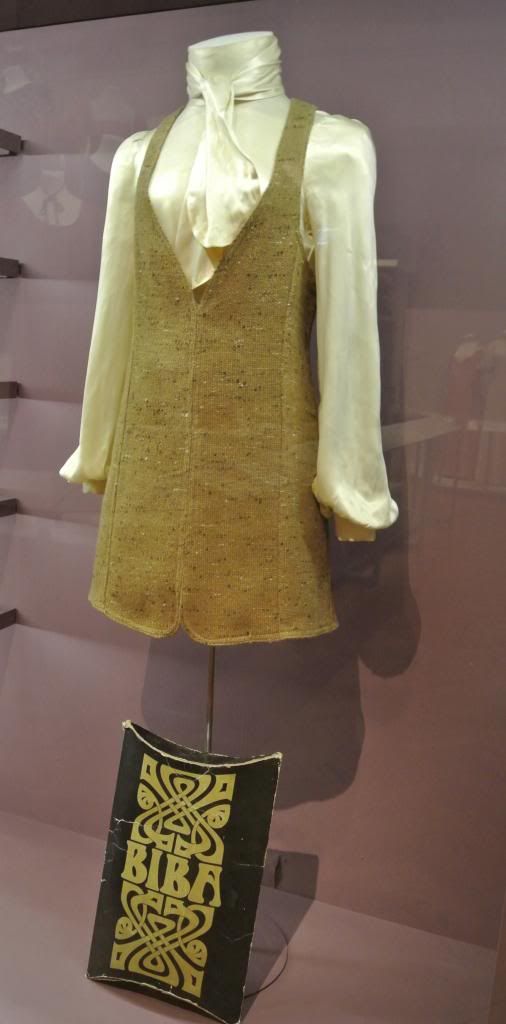 Biba re-introduced their mail order catalogue in 1968, taking the brand nationwide and allowing girls all over the country to share in the glamourous nostalgia. Six different editions of the mail order catalogue were produced, all lavishly illustrated with images by photographers such as Helmut Newton, Sarah Moon and Donald Silverstein.

When the Big Biba store ran into financial difficulties, 75% was sold to shareholders Dorothy Perkins and Dennis Day. Barbara left the company in 1975, shortly before its demise, citing difficulties with the Board over creative control.
Barbara has recently produced collections for Topshop and Asda, as well as forging a very successful career in interior design. The banana print on the 1969 Biba dress below has become an iconic Hulanicki design and was even re-interpreted as a wallpaper for Habitat in 2006, proving the longevity of Barbara's designs.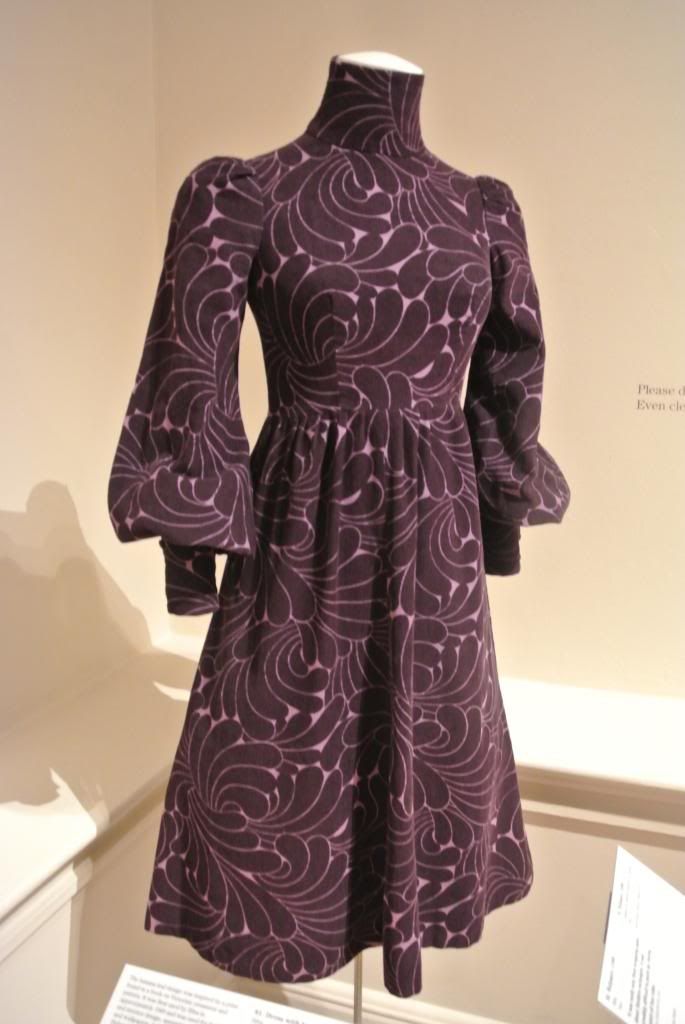 Biba dress in corduroy with banana print

The exhibition runs until 14 April 2013 at the Brighton Museum & Art Gallery in the Royal Pavilion Gardens, Brighton. Entrance is £6 for adults, free for children 15 and under, and £4 for concessions.

For more details on the exhibition, opening times and visitors information, visit www.brighton-hove-museums.org.uk or call the Brighton Museum & Art Gallery on 03000 290900.
Competition time!:
We have some Biba branded goodies from the exhibition to give away as a prize: a reprint of the original Biba Brighton shop poster, a Biba pen and a set of six Biba postcards featuring department logos from the Big Biba shop (these will look great as a set in a frame!).
All you need to do is answer the following easy question:
What is the name of Biba's creator?
Send your answer to dawn@candysays.co.uk along with your name and address and the title 'Biba comp'. Competition closes at midnight on January 31st 2013.