The 1960s saw menswear make the transition from traditionally rather plain, dark clothing to bold colours, bright floral and psychedelic prints, frills, lace and cravats - marking the rise of Swinging London's Dandies.
Parodied in songs such as the Kinks' 1966 single 'Dedicated Follower of Fashion', this new trend indulged the peacock in every man and gave way to an assortment of high fashion menswear boutiques such as Hung on You, John Stephen and for a brief period, Dandie Fashions.


Located on the ultra-fashionable Kings Road, Dandie Fashions had made the move to Chelsea from their original premises in South Kensington. At its helm was Neil Winterbotham, Freddie Hornik (later of Granny Takes a Trip), Tara Browne (a London socialite and Guinness heir), John Crittle (an Aussie formerly employed at Hung on You and estranged father of ballet dancer Darcey Bussell), and Alan Holston (who was appointed manager as he was the only one who could get out of bed early enough!).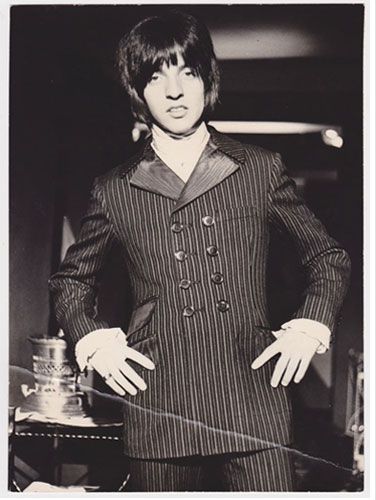 Alan Holston in a Dandie double-breasted pinstripe suit

In December of 1966 Tara Browne was killed in a car accident. He had been en route to discuss shop front designs for the new Dandie premises in the Kings Road with designers Binder, Edwards and Vaughan (known as BEV) when his Lotus Elan collided with a van in Redcliffe Gardens, Earls Court. According to Browne's friend John Lennon, this sad event and its subsequent reporting in The Daily Mail were the inspiration for his lyrics in the first two verses of the Beatles song A Day In The Life ("He blew his mind out in a car, He didn't notice that the light had changed…").
Crittle (pictured left with wife Andrea) took over Brownes' share of the business and Dandie Fashions opened its newly painted psychedelic doors in 1967, selling flamboyant suits, shirts and jackets in floral prints, velvets, silks and nouveau patterns. Customers included the cream of the 1960s rock'n'roll elite such as The Beatles, David Bowie, The Who, The Rolling Stones and Jimi Hendrix.
As well as providing clothing to swinging Londoners, the shop also hosted wild late night parties and was at the centre of a drugs bust in 1967, after which The Rolling Stones' Brian Jones loaned Crittle the use of his chauffeur and limo for his court appearance!

Dandie also had its own 1956 psychedelic, multicolored Bentley which was used as a party car to transport clientele to various clubs and parties around town. Crittle had commissioned BEV to paint the car at the same time as the shop front, in similarly psychedelic style.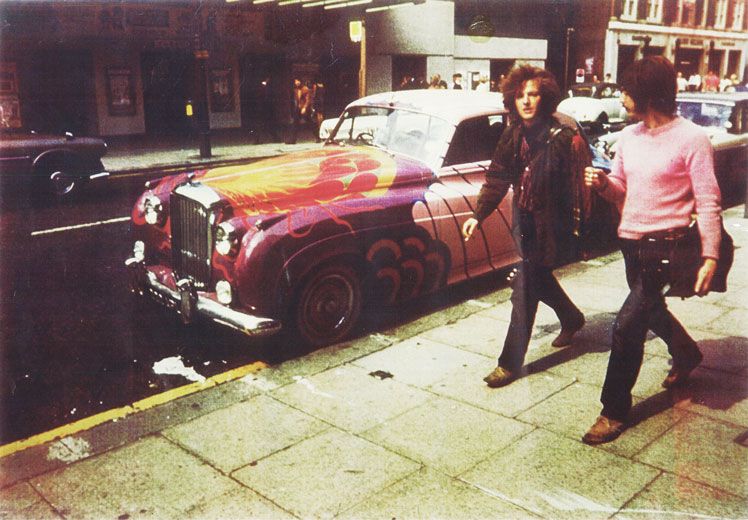 The Dandie Fashions 1956 Bentley, as painted by BEV

In the Spring of 1968 The Beatles bought all of John Crittle's shares in Dandie as a business investment in exchange for 1% ownership of Apple Corps, and the shop was transformed into Apple Tailoring. Crittle was retained as director but this venture was famously ill-fated and the Apple boutique closed its doors by the summer of the same year.
Below are some photos of a brown wool suit we have for sale from Dandie Fashions. Although more reserved than many of their designs, it is a classic and beautifully tailored example. Note that on the label the shop name reads 'Dandy', which the shop changed to from their original spelling with the 'ie'.
Disclaimer: We do not own any images except those taken of our stock specifically for our website. If you are the owner of any images we have used and you wish them be to removed, please ask us and we will certainly oblige!