One of the most sought after off-the-peg labels of all has to be the Preston-based Horrockses Fashions. Although we've stocked many dresses by this covetable label over the years, most of the time they barely spend a day on the website without being snapped up by eagle-eyed cotton connoisseurs.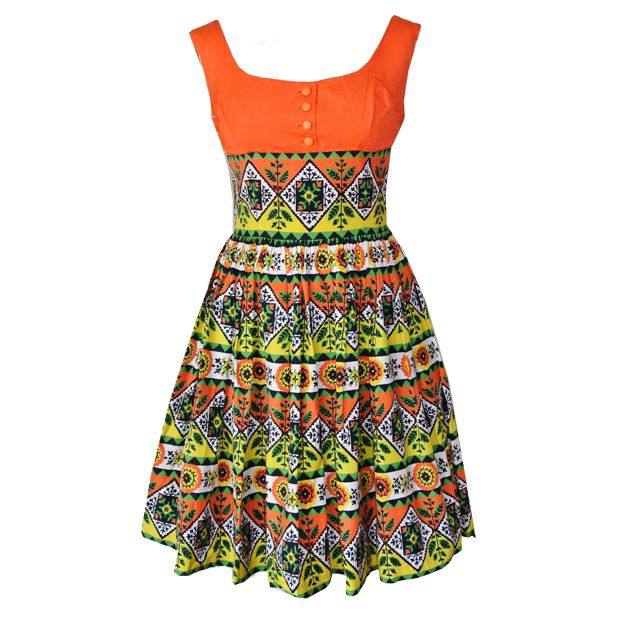 Horrockses 1950's vintage cotton dress with folky floral print in bright citrus tones

Horrockses label from the dress above

If you've ever owned a Horrockses dress, it is not hard to work out why this newly resurrected label is so renowned and adored by women of all ages.
The quality of the fabrics, the eye-catching and bright prints and the Parisian inspired couture-look designs made a magical combination and assured this company a much-loved place in the hearts of all who wore their garments.
The Horrockses Fashions label launched in 1946, but the company originally started up way back in 1791 by John Horrocks to produce cotton yarn and cloth.
Based in Preston, Lancashire, over the years their fabrics gained a reputation for high quality - so much so that by the 20th century the company advertised using the bold tag line 'The Greatest Name in Cotton'.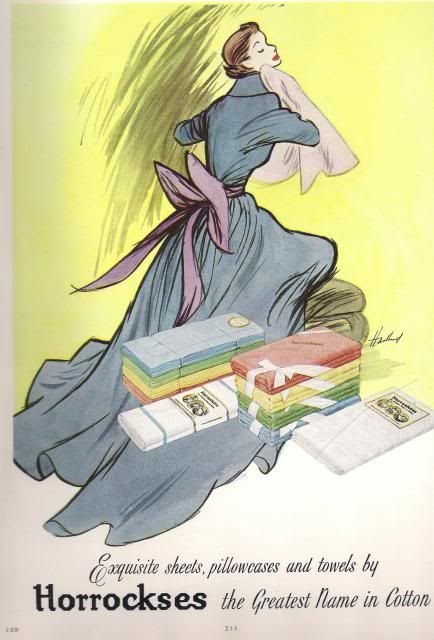 Above: Horrockses advertisement from the Daily Mail Ideal Home Book 1952 - 53

The launch of Horrockses Fashions ready-to-wear label conveniently coincided with the end of cloth allocation post-Wartime. As Horrockses had their own supply they had an advantage over their competitors, who now had to compete for fabric supplies with other manufacturers.
The brand became best known for their beautiful full-skirted summer and shirtwaister dresses with vibrant floral, abstract and novelty prints. They also produced evening dresses in cotton, jerseys, silks and later in the 1950s, nylon.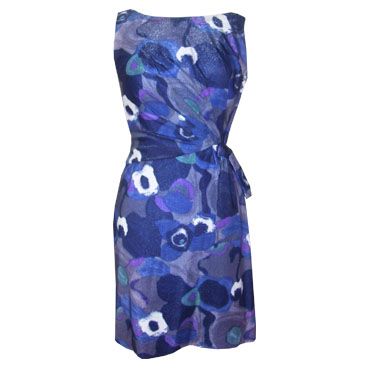 Above: Nylon Horrockses dress, circa 1960s

The diversity of their prints was due to their varied approach in acquiring their designs - from the employment of in-house designers, to contracted individuals, prints purchased from design studios, freelance designers and sometimes work from well-known artists.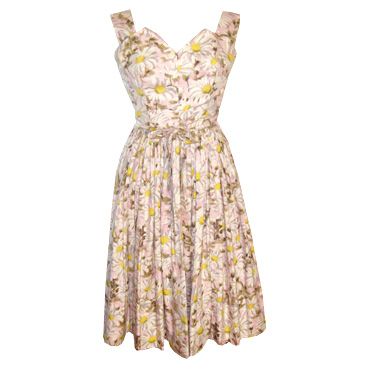 Polished cotton daisy print 1950s Horrockses dress

Floral patterns were most frequently used, varying from realistic natural designs to highly stylized impressions - often arranged in stripes known as bayadere - a style much imitated by their competitors.
Other more unusual prints included a pattern of lobsters, flowers and butterflies by Pat Albeck, an abstract design based on hypotrochoids by Alastair Morton, a quirky print featuring plates of food and a fabric design to commemorate the coronation of Queen Elizabeth II in 1953.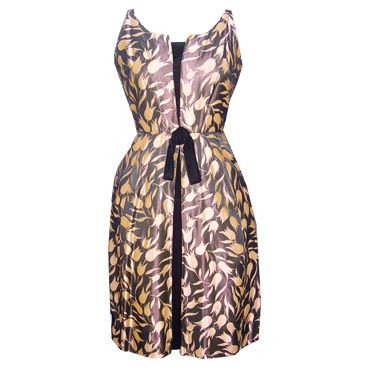 Tulip patterned jacquard Horrockses cocktail dress circa 1950s

In fact, Horrockses designs could often be seen modelled by the young Queen, ensuring valuable press coverage for the brand.
When still a Princess, Queen Elizabeth II had been contacted by the company with a view to offering her a collection of cotton dresses for her forthcoming Commonwealth tour, on which she took several outfits from the label.
Beautiful floral evening length Horrockses gown

Other members of the British aristocracy such as Princess Margaret also favoured the brand. Dresses were selected on the condition that similar designs would not be offered for sale to the general public until they had been worn by the royal family member - but the department stores would use the royal connection as a sales pitch to encourage buyers with the idea that their chosen gown may indeed be one of those picked out by Royalty.
Sunflower print polished cotton boned 1950s day dress

Label from the above dress
By the late 1950s the British cotton firms faced intensified competition from the Far East and man-made fibres. Some of the top designers left the company and in 1964 the business was sold to Steinberg & Sons who secured a Royal Warrant for the brand that year.
Business continued until 1983 when the label was discontinued. However, due to an increasing interest in retro and vintage fashions and fabrics, Horrockses have recently enjoyed a revival, returning as a homewear brand featuring some original prints on a range of bed linen, cushions and bedspreads.

View our current collection of Horrockses items (be warned, they come and go in a flash!).

To find out more about Horrockses Fashions, treat yourself to a copy of 'Horrockses Fashions - Off-the-Peg Style in the '40s and '50s' by Christine Boydell (V&A Publishing).